The College of Business is the fastest growing unit of the University, using on-campus and online programs to serve 1,100 undergraduates and more than 600 graduate students. Forty highly dedicated full-time faculty staff the College—most holding PhDs from leading universities. The College of Business is accredited by the Accreditation Council for Business Schools and Programs (ACBSP) and the Computer Information Systems Program is accredited by ABET, Inc., the most recognized accrediting body for computing programs throughout the world. Our students participate in, and frequently achieve recognition and awards in, academic competitions at the state, national, and international levels in a wide variety of disciplines.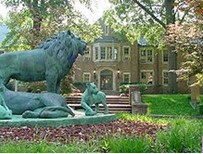 Every organization—Fortune 500 companies, entrepreneurial start-ups, retail stores, schools, churches, manufacturers, social service agencies, technology firms, governmental agencies, airlines, hotels, and restaurants—all require business know-how. Our business programs prepare students for career success in whatever path they pursue. UNA College of Business alumni may be found in each of these employment settings in locations locally, throughout the country and around the world.
We encourage you to look further at our programs and contact us if you need additional information. The faculty and staff stand ready to assist you in learning about any of our programs that interest you. Contact information is contained on this website for all of our departments and programs. We look forward to hearing from you!